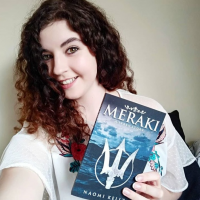 Naomi Kelly
Paranormal Romance, Science Fiction, Fantasy, Teen & Young Adult
Profession

Part time Author
Naomi Kelly is an Irish YA Fantasy Writer.

Her latest novel, Kairos: A Syren Story is releasing 20th March 2021! This brand-new book is the enchanting sequel to Meraki: A Syren Story which released last year and has been immensely popular!
Find out more by heading to Amazon or Book Depository, and reviews are available on Goodreads!

Keep up to date with new releases, reviews and giveaways by following her social media above!